Whenever it is about taking care of our skin, we choose products very carefully. And when you are searching for baby skincare products, I know you will always want the best baby skin product for your little angel. 
Baby skin is more delicate and is often exposed to harmful substances. You should always choose the best baby skin care products without any harmful chemicals. When you are going to shop for any baby skin care product, you may want to be extra careful.
There are a lot of things to take care of when you are about to pick the best baby skin products. You should check the reliability of the baby skincare brand, whether they are specialized for baby skin care products or not, the ingredient list, and obviously the price.
Best Baby Skincare Products For Your Kids
I understand how tough it becomes to select baby skincare products when you are also taking care of a baby as a parent. That is why I have curated a list of the best baby products for skin. Let's find the list now so that you can just place your order online and relax a bit. 
1. Face the Day Stick BY M&Y Baby Explorer
The Face The Day stick is one of the baby skincare products, which is designed especially for babies from the elements that are capable of protecting your baby's delicate skin from drizzle, wind, and even drool. 
This balm is both easy to use and effective at the same time. This product is an amazing solution for soothing irritated skin. In addition to that, the stick form makes it perfect for outdoor usage. I am sure the hypoallergenic formula will impress you. 
2. Daily Care Baby Moisturising Lotion By Aveeno Baby
Are you looking for the best moisturizer for baby? Here is an everyday moisturizing cream, which is particularly great for dry skin. That means no more cracked cheeks and skin irritations. 
For keeping your baby's skin soft, this moisturizer uses colloidal oatmeal and the gentle and natural properties of oat essence. This product is best for maintaining healthy, moisturizing, and soft-soft baby skin. 
3. Hydra Bebe Facial Cream By Mustela
Is your baby suffering from drool rash, teething rash, and dry cheeks.? This gentle face cream or baby moisturizer for face can actually help you to soothe all those red and nasty patches. Though you might think the price is a bit out of your budget but trust me, it is worth the price. 
The Mustela Hydra Bebe facial cream is a mixture of shea butter, jojoba oil, and sweet almond oil, along with vitamins F and E. All these ingredients offer long-lasting softness and hydration to your baby's skin. It is totally safe for newborn babies as well, which makes it one of the best baby skincare products.  
4. Cocoa Butter Formula Baby Butter By Palmer's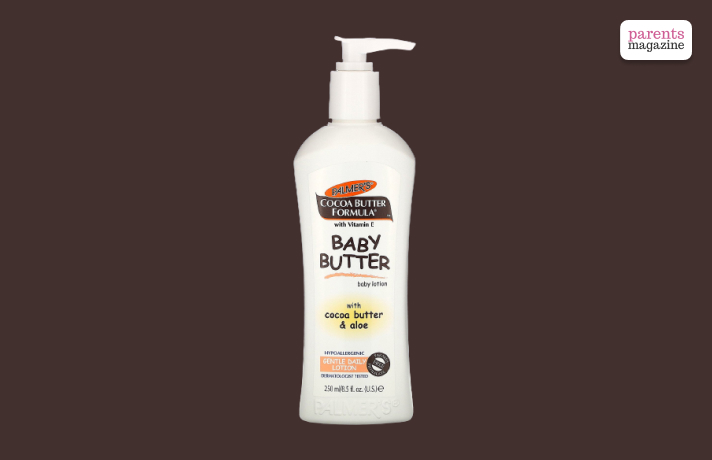 Who has a toddler, or a wriggly baby, who does not like to be on the changing table after her bath time? I have the perfect solution for you. If you are smart enough, you can use the pump bottle one-handedly. 
Though the product is called butter, it still actually has a light texture that is super easy to rub and also soaks in your baby's skin quicker. The chocolaty, coconut smell is another irresistible one for both the parents and babies. You also can shop for the spray-on oil, which is perfect for baby massage. So, choose this one of the greatest baby skincare products now. 
5. Body Cream By Baby Kingdom
The texture of Body Cream by the Baby Kingdom is really popular amongst the mothers as it soaks in like magic. It does not only soak into the baby's skin really quickly but also shows the result really quickly. You will definitely like the result. 
A small amount of moisturizer is enough to show the visible result on your baby's skin. Apart from the moisturizing effect, this best moisturizer for babies also comes with a decent smell, which both parents and babies love. 
6. Continuous Protection Sunscreen By Aveeno Baby
Though you might think that there is no sunscreen, which is good and safe enough for your baby, but Aveeno Baby Continuous Protection Sunscreen will amaze you with its amazing moisturizing formula along with SPF 50 protection. 
For your little boo's sensitive skin, this product is excellent, which offers sweat and water-resistant for 80 minutes. The no-tear formula is also non-greasy, fragrance-free, phthalate-free, and paraben-free.  
7. Organic Baby Cheek Balm BY Earth Mama
This ultra-rich balm from Earth Mama has calendula coconut and is perfect for soothing a baby's face. Are you searching for an alternative to those traditional petroleum jelly products? This product will moisturize your little angel's skin. 
Whether it is a drippy nose or dry chin, this product will work really amazing. Organic Baby Cheek Balm does not contain any GMOs, Parabens, petroleum, artificial preservatives, and fragrances. 
8. Baby Bee Buttermilk Soap BY Burt's Bee 
Bee Buttermilk Soap is another one of the most demanding baby skincare products, which is suitable for specifically washing slippery babies. The control that it offers will keep your baby away from running liquids on the baby's delicate eyes. 
When it comes to getting your little munchkin clean, this product does a great job. You will fall in love with the scent when you are washing your baby. Apart from that, this amazing baby soap is free from all those harmful chemicals. 
9. Overtired And Cranky Massage Oil By California Baby
After all, your baby also needs some great massages; she does a lot of activity of crawling around here and there and keeps you busy all by herself. The gentle touch of aromatherapy offers a calming effect and comes in a pump form. 
This can be the best shower gift for your baby along with making baby massage really quick and easy in order to make sure the massage oil gets incorporated into bath time or diaper change. 
10. Calming Diaper Area Wash By California Baby
For those diaper changes, you might be searching for some cleaning options. Do not worry. We got you covered here as well. California Baby has an amazing range of baby skincare products. And a spray-like spritz is indeed an excellent option for a diaper change. 
It allows you to clean the sensitive area in a non-burning way and also comes with a delightful scent. You can also use this product along with remoisten traditional wipes or baby cloth wipes. 
All Baby Products You May Need
Get these newborn skin care supplies as you prepare the baby's nursery:
Baby soaps, washes/cleansers, and shampoos
For newborns, mild cleaners and washes are safe. However, use baby soaps with caution, as they can dry out a baby's skin.
Baby lotion
Aids in moisturizing infant skin. Be careful when using it on tiny babies.
Petroleum jelly
It offers a barrier of defense for a baby's skin against wet diapers. You could apply it on circumcision wounds. 
Diaper rash ointment
It can be applied to diapers, providing a moisture barrier for the baby's skin and shielding it from irritation caused by wet diapers.
Baby oil 
Instead of being used as a moisturizer, this classic works best as a massage oil for baby skin. It does not absorb well into newborn skin.
Baby laundry detergent 
Choose infant detergents without dyes or scents. The skin of a newborn is too delicate for regular detergents. When selecting dryer sheets, the same rule applies.
Baby powder 
If you must use baby powder, look for talc-free varieties and take care to keep it off the baby's face and private parts. The powder's talc or cornstarch may make breathing difficult. Use with caution.
FAQs (Frequently Asked Questions)
I have offered you a complete list of the best baby skincare products;
your traditional moisturizer will need to keep your baby's skin healthy and soft as it should be. Proper care of your baby's skin will also keep any kind of skin rashes or irritation at bay. 
In case you have any further doubts or queries, you can directly write to us, we will try to get back with the perfect solution as soon as possible. You also can share your personal preferences. I hope our readers will love to know your personal experiences as well. 
Till the time, here are some common questions I believe being a parent you might have in your mind. So, here are the questions along with their answers, which will definitely help you in taking proper care of your baby's skin. 
Q1: Which Products Are Good For Baby Skin?
Here is the list of products your baby will need for a healthy baby. 
Baby wash, soap, and shampoos.

Baby lotion or moisturizer. 

Diaper rash cream.

Baby massage oil.

Petroleum jelly.

Baby powder.
Q2: How Can I Take Care Of My Newborn Skin?
In order to keep your little angel's skin hydrated, do not bathe them in warm water for more than 3 to 5 minutes. Do not let your baby play, soak, or sit in soapy water for long. Immediately after the bath, apply a baby moisturizer or baby lotion while their soft, delicate skin is still wet. After that, instead of rubbing, pat it dry. 
Q3: Which Product Is Best For Kids' Skin?
I have already mentioned the best baby skincare products for your little boo. You can use these products and experience the result within a few days. Your baby's skin will stay hydrated, healthy, and soft. 
Q4: When You Can Put Lotion On A Newborn Baby? 
Once the baby is born, she has a misly layer in her skin. After a few weeks, when the waxy layer starts to peel off, your baby's delicate skin needs to be hydrated. So, you need to choose the best baby lotion to apply to your baby's skin. So, after bathing is the right time.
Choose The Product Wisely
Always remember your skin and your baby's skin are not the same. Baby's skin tends to be more delicate, soft, and sensitive. So, whenever you are searching for baby skin care products, you should be really careful and check out the ingredient lists whether the product contains any harmful chemicals and is safe for your baby or not. 
Read Also: