Do you know what the three main activities of a baby are? Well, most of you out there will not be able to answer this question. However, if you are a parent, you will certainly know the answer. The three main activities of a baby are eating, sleeping, and wetting the nappies. As every infant is not potty trained, you need to have the best baby wipes to wipe off their bottoms.
Baby wipes are a necessity for a parent who has an infant in their home. Using baby wipes will reduce most of your work. 
When it comes down to baby wipes, your baby needs only the best in the market. It needs to be soft, high quality, and gentle on baby skin. 
Best Baby Wipes of 2021
Being a parent myself, I understand what is best for my baby. With that being said, let's explore the different brands of baby wipes and see which are best for your baby.
1. Babyhug Premium Wipes
Babyhug Baby wipes are one of the premium baby products of Babyhug. These are the best baby wipes and are designed, keeping in mind the delicate softness of babies. These baby wipes are alcohol-free and come with easy to use packs.
The best part I like is that the baby wipes contain Vitamin E and aloe vera extract to provide nourishment. The glycerine and the right PH level help maintain the moisture balance on your baby's skin.
2. Himalayan Herbal Gentle Baby Wipes
Himalaya herbal is one of the best companies that produce high-quality baby wipes for parents like us. Himalaya herbal baby wipes are specially formulated in such a way that it keeps the skin soft.
The Himalayan baby wipes contain aloe vera and lotus extract that helps the baby's skin retain moisture. Also, this product is free from paraben, animal fats, and synthetic chemicals. This ensures that your baby does not suffer from any kind of allergic reaction.
3. Pampers Baby Wipes
For most of us, changing a diaper is an odd job. But what if I say you can make that a fun everyday event? With the pampers fresh baby wipes, you can certainly do so. Pampers offers one of the best baby wipes in the industry. They aim to provide a baby wipe that is affordable but has a fresh aroma.
Pampers fresh baby diaper comes with an intriguing design to ensure that more dirt is cleaned in on full scoop and make the diaper changing a fun time.
4. Mee Mee Baby Wipes
Mee Mee aims to let the parent enjoy the joy of parenting. These baby wipes are made up of spun laces and non woven fabric. These wipes are designed to clean more areas in one clean. It is hypoallergenic, alcohol-free, and dermatologically tested.
Every baby wipe contains aloe vera extract to ensure that the baby's skin remains moist and retains moisture for a long period.
5. Johnson's Care Baby Wipes
Johnson's care baby wipes are world-class and are loved by parents worldwide. You can not only use it for the abies, but I have seen many women using it to wipe their faces. Johnson's baby wipes come with no more tear technology; hence, even if you used your baby face, it will not create any kind of irritation in the eyes.
Johnson's baby wipes are alcohol-free and provide gentle care to your baby's skin. The wipes are enriched moisturizing lotions that add an extra protective layer over the skin, providing a layer of protection from the atmosphere.
6. Mother Sparsh Baby Wipes
The name itself is enough to tell you how Mother splash baby wipes work. These wipes are made up of plant-based protection and have no traces of polyester. It is alcohol-free and is 100% biodegradable.
The wipes' inner layer is made up of soft velvet material that is super soft and is three times thicker than the usual baby wipes.
7. Chicco Baby Wipes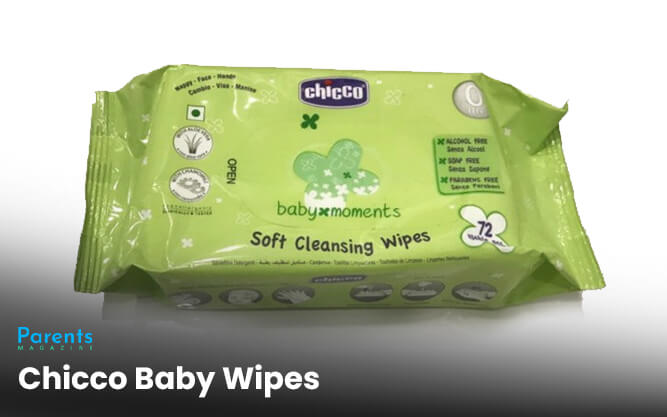 Chicco baby wipes are made for babies with sensitive skin. The manufacturers have taken great care to produce a product that can be used to clean infants' soft and sensitive skin. Every wipe contains aloe vera and chamomile and works great with sensitive skins. 
These are the best baby wipes with paraben-free, alcohol-free elements. They are made up of non woven fabric to keep the wipes soft. 
Also Read: Top 10 Best Swim Diapers of 2021
8. Little's Soft Baby Wipes
These wipes can be used to clean off your baby's body while having a diaper change, or you can even use these baby wipes after having a meal. You can simply use these baby wipes for anything you want to do.
Little's soft baby wipes contain the extract of aloe vera and Vitamin E. Also, it is extra thick to ensure that you are comfortable while wiping your baby. These extracts ensure that your baby's skin retains moisture for a longer period.
9. Kirkland Baby Wipes
It is really hard to clear your baby completely. Some dirt is so sticky that we need to take help from scrubs. Although it is not recommended to use scrubs on a baby's soft skin, we are forced to do that. Not anymore. With the Kirkland baby wipes, you can remove even the sturdiest of dirt with ease.
The best part of these baby wipes is that they are free from chlorine and synthetic fragrance, which might later have an allergic reaction to your baby's skin.
10. Cottonelle Fresh Baby Wipes
Cottonelle are the best baby wipes in terms of convenience? Use it and flush it down in any toilet. They are made up of cotton fabric that ensures that it does not clog ant toilets. They offer high-quality products that are soft for the baby's skin but have an additional fresh aroma with convenience.
The baby wipes design has gone through several engineering efforts to ensure that it helps remove dirt, remove stickiness, and have liquid content to offer moisture while cleaning.
Conclusion
Baby wipes play an important part in successful parenting. If you are a parent, then you will find that having baby wipes at your disposal will always be helpful. However, choosing the best baby wipes is very important. You can't just choose any baby wipes to use on your baby soft, delicate, and sensitive skins.
Here we have listed down the best baby wipes. We hope that this list will be helpful to you in any way.
You May Also Like: