Baby dolls are an all-time favorite for your baby. It is the cutest thing to see your toddler feeding, rocking, and carrying another baby. Playing with a baby doll also develops some life skills, just like taking care of others, due to nurturing play. Silicone baby dolls have become popular in the last few years. Due to its realistic look and feel, it has gained popularity.
Top 10 Silicone Baby Dolls Of 2021
Silicone baby dolls can be the best gift for your child that you can give as a present. Your child is really going to love it and on top of that, it is long-lasting and durable! Now, let's not making you wait any further, here is the list of the top 10 best silicone baby dolls of 2021
 1. UBesGoo 22″ Baby Girl Dolls
This doll is 100% handmade with high-quality silicone vinyl. The body fillers are of high-quality soft material. Real hair, just like real babies, is planted on its head. You can wash them and also comb them. Though the doll is not washable, you can wipe out the dart with a damp cloth.
With a weight of 2.8 pounds and a dimension of 22 inches, this doll looks exactly like an original baby with real-looking eyes, open nostrils, soft and humid lips, realistic skin with a blushing face. This piece of the doll is safe for toddlers above three years. 
 2. Zimtown 22″ Baby Doll 
With a cotton body and silicone vinyl limbs, it is another perfect silicone baby doll for toddlers. You can make this doll lay down and also sit, but it is unable to stand. Like the previous one, this is not a water-friendly doll, as it has a cotton body.
It has its cute hippo clothes with a color combination of pink and white. You also can make it wear original baby clothes. The nipple and milk bottle are also included with this silicone baby doll. 
 3. Zimtown 24″ Baby Silicone Girl Doll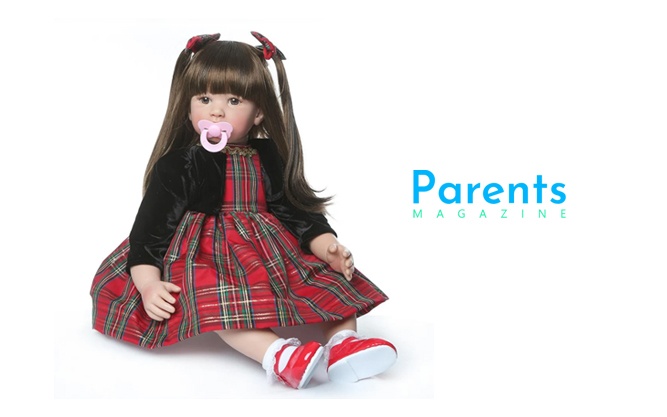 This is a 24 inches long-haired girl doll. Made with non-toxic and safe silicone, this ultrasoft baby doll is flexible enough to sit and lay down.
With long eyelashes and bowknot, long combed hair enhances the overall look of this cute silicone baby doll. It comes with a cute set of dresses with a color combination of white and pink. 
 4. Ktaxon 22″ Soft Vinyl Silicone Baby Girl Doll
With a dimension of 22 inches, this doll is made of silicone vinyl and cotton, and other silicone baby dolls. With cute realistic acrylic eyes and hand rooted Mohair, this silicone doll looks exactly like a real baby.
You also can wash and comb the hair but make sure the body does not get wet. As the body is made of cotton, it is not at all waterproof. This baby look-alike silicon doll comes wearing a cute white and pink dress with ruffles. It also has a pink headband with a flower on it. 
 5. Zimtown 22″ Full Body Silicone Vinyl Baby Girl Doll
Just like the previous one, this silicone baby doll is also made with silicone vinyl that is safe and will not cause any harm to your baby. This huggable baby silicone doll has flexible hands and legs, which allows it to sit and lay down and also can enter the water.
The realistic hair can be washed and combed as well. It comes with clothing, and you also can dress it as per your choice. 
 6. 22″ Full Body Silicone Soft Biracial Baby Girl Doll
This 2.4 pounds silicone baby doll is made of silicone vinyl, which is non-toxic and safe for your baby. You will get a baby powder smell from the doll. Initially, the smell comes from the material silicone vinyl. This eco-friendly doll is manufactured for babies above three years of the age range.
The rayon wig is washable, and the best part is that you also can trim or cut it in any style you want. The clear acrylic eyes are bright, but they can not blink. 
Also Read: Top 10 Best Crib Sheets of 2021
 7. Ktaxon 23″ Baby Girl Doll Full Body Silicone Vinyl 
This handcrafted doll is made of imported silicone gel. The full silicone body is waterproof, so it is safe on the water, do not worry about getting wet. With soft hands, bright acrylic eyes, soft and tender lips, this is just like a real human baby.
This human baby doll also has hand-rooted hair, and you can shampoo it and comb it. This silicone baby doll comes with a birth certificate, one pacifier, one bottle, and one set of cloth. 
 8. 22″ Handmade Vinyl Silicone Baby Dolls
This vinyl-made silicone baby doll looks just like a baby boy wearing a blue bobby print romper. With the pacifier in its mouth, it weighs 3.5 pounds. It comes with a set of cloth, one magnetic dummy, and one empty bottle, birth certificate in the gift pack.
Like the previous ones, this human baby doll also has hand-planted natural hair that can be washed and combed. 
 9. Realistic 22″ Silicone Vinyl Newborn Baby Girl Dolls
This cute silicone baby girl doll wears a set of cloth with a combination of white and pink. The cloth set includes a full pant with a full sleeves romper, a pair of baby socks, a baby bib with a cute elephant print.
The gift box also has a baby headband of pink color and a big flower attached to it. 
 10. Realistic 22″ Full Body Vinyl Silicone Newborn Baby Girl Doll
This one is a silicone baby girl doll wearing a cute floral printed dress. Original hairs are hand-rooted, which is safe for washing and combing. In case the hair becomes messy, it will be best if you use an original wig brush to comb.
It will be like a younger sister to your toddler or young kid. The dimension of 22 inches is perfect for interactive child play. 
Conclusion
All of the silicone baby dolls, as mentioned earlier, are a perfect gifting option for birthdays, Christmas, and new year as well. Your baby will surely love to have a doll or a companion who looks like a human baby. All these are safe, and the non-toxic material makes it perfect for babies or toddlers.
More Resources