The whole process of pregnancy is like an exciting journey. Every day you get to learn something new. It can be as small as a craving or as big as the gender of the baby. This is a big part of your pregnancy. And news as big as this should be celebrated with friends and family. So why not make it an exciting game or throw an amazing party to reveal the sex of your baby?
Need some ideas?
As the time comes near, the suspense grows, and there can be no better way to do this than getting through this phase together. You don't need an excuse to throw a party, but this can be a great way of celebrating and welcoming a new member who is just about to arrive.
It is absolutely your choice what color you want to assign to the respective gender. Or you can choose blue or pink to avoid any kind of confusion as well. Let's have a look at some cute gender-reveal ideas.
A show-stopping cake
This is a simple gender reveal idea. Ask your baker to create a cake masterpiece and put some blue or pink candies inside the cake, which can fall out as you cut the cake. Ask them to cover the cake with a different color of frosting. Or you can ask them to make the cake blue or pink and then ask them to cover it with a different frosting color.
Make sure nobody gets to peek before time. And when it's time, cut the cake together with your partner and surprise! You know the answer to your question.
Christmas cracker reveal
If you are having the baby just in time for Christmas, then why not utilize the tradition of "Christmas crackers" as an easy gender reveal idea? You can do the reveal in front of the tree or a pretty spot in front of the beautiful décor you have on for Christmas. Make your holiday baby feel a bit more special with the video when they grow up.
Cake pops or cookies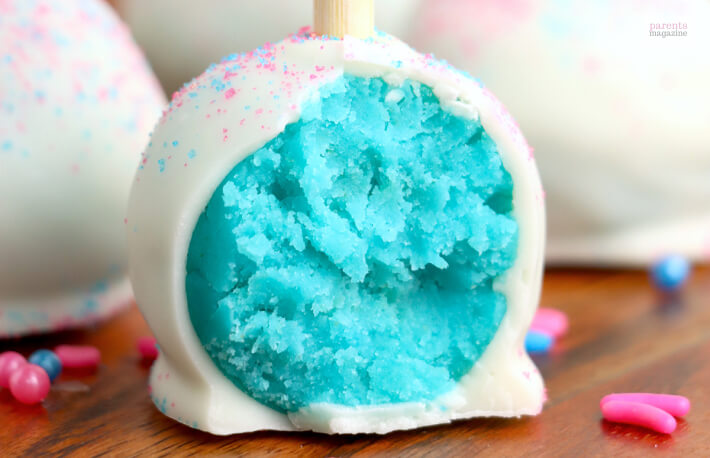 Getting some customized cake pops or cookies, or cupcakes can be a very cute gender reveal idea. This will be an exciting way of involving your family and guests as well. They can all take a bite at the same time, and the insides of the pop will show them their gender.
This can be a good gender reveal idea for family members as they get to be involved in the process as well. You can also make blue or pink frosting outside and let them choose one, but after taking a bit, they get to know if they chose correctly or not.
Make a game out of it.
A gender reveal game idea is the best to keep them involved and excited. You can make a board with pink and blue boxes and keep one extra box for the actual answer. Cover these boxes completely and place balloons on the board. Give your guests some darts and let them pop those balloons. After all the balloons are popped, let them count which color is more in the box, and that will give them the answer.
Puzzle
All you have to do is buy a big puzzle and hide the pieces all over the house and courtyard. Of course, the puzzle should be something a boy or a girl will like, so after solving that, they can figure out the gender of the baby.
Let the sibling do it.
This idea will work only if you had a bay before. The older sibling can enter the room filled with a guest with a banner revealing the gender, or they can pop a balloon to let the guest know about the gender of their upcoming sibling.
Ask the sorting hat
If you are a Harry Potter fan, this is the best gender reveal way for you. Put something inside the hat for your baby girl or baby boy and make the reveal when all your guests have arrived.
Reveal with a smoke bomb.
If you want a photo shoot and capture a beautiful moment, this can be a good reveal idea. Ask one of the guests to throw a smoke bomb at you and your partner, and the color of the bomb will reveal the suspense.
Canvas painting
If you are a creative person, you can choose the gender reveal idea to be creative as well. Host a canvas painting party where you have to buy small canvases and cover those with blue or pink colors. When the paint dries, hide this color with white or black paint. Then ask your guests to make a drawing by scraping the upper layer with a spatula. The upper coating will come off, revealing the big surprise.
Bath bomb  
This is a very personal gender reveal idea. This is only for you and your partner. This can be a very romantic gesture as well. Put on some good music, light up some scented candles, and wait till your partner comes in. When they come in, put the bath bomb inside the tub and make the great reveal.
Fireworks  
Celebrating a special moment with fireworks is always a good idea. For a gender reveal, get some custom-made fireworks that will reveal the words boy, girl, or twins, and light those up when all your guests are together.
Water balloon party
This can be a good idea for an exciting reveal as well as if you want a theme color for your party. Ask your guests to wear only white colored clothes and fill the balloons with blue or pink colored water. Once they start playing and splash those balloons on one another, they get the surprise.
Wrapping up!
It is always said that happiness increases when you share them. And sharing such wonderful news with your loved ones will create a memory for your eternal album. Sharing the news with exciting ideas and games will make your pregnancy days even more memorable. Celebrate the news the way you want and enjoy these moments to the fullest.
Have A Look :-