-Are you heading to the beach with your little ones?
-Are you worried that they might fall on the sand and get hurt?
Don't worry. 
We have got some of the best swimming shoes for kids in this article, and we can help you choose the right one for your toddler on this list.
Although they are essential summer vacation gear, you may not have bought one for your little one yet because this will be his first time on the beach.
Therefore, keep reading this article, and we will tell you more about the essential aspects of kids' swimming shoes. But, first, let's find out the difference between toddler water shoes and regular shoes.
Kids Swimming Shoes Vs. Conventional Shoes
Water shoes for kids are made for aquatic activities. However, conventional shoes are meant for walking on the streets. Furthermore, they are made with different materials than swimming shoes. This is the reason why you must equip your kids with standard water shoes when they go swimming.
Water shoes are made with mesh materials that keep the foot cool, and they are water-resilient as well, which is why when submerged, they allow for an improved water flow.
On the other hand, regular shoes are not made water resilient. So even though the upper half of those shoes can soak up water, the inside will take much longer to dry up.
It will increase the weight of conventional shoes, which may cause difficulty while walking. Whereas the kids swimming shoes dry much quicker and keep the shoes as lightweight as they were initially supposed to be.
Top 15 Kids Swimming Shoes

 
We know that you always look for the best baby shampoo for your kids and even help them find the best swimming costume, swimming cap, and goggles. However, if you want to complete the list of these beach vacation gears, you must find the best kids' water shoes.
Let's check out the list of the best kids swimming shoes:
1: Girls' Blowfish Malibu Rio Slip-On Shoes
If you are looking for water shoes for girls, the Blowfish Malibu kids swimming shoes top the list. 
The colorful texture on the upper half makes them a perfect addition to your little princess's summer closet.
Additionally, the EVA lightweight strap on the shoe stays on even when the water waves are strong, yet you can slip them out easily when you want. 
The elastic laces are also great and make them easy to wear as babies' water shoes.
Features
Breathable EVA Upper.

Waterproof cushioned footbed.

Elastic laces are made for a custom fit.

Lightweight.

Durable outsole.

Flat heel.
Price
These kids swimming shoes are priced at around $20 on Amazon.
2: Merrell Kids Hydro Moc
Boys don't need to feel left out because the next item on the list of best kids swimming shoes is exclusively designed for our little champs. 
The cutting-edge futuristic design of these boy water shoes is a new favorite of people.
The design and the lightweight IMEVA construction protect little ankles from small shells that may bounce up as they walk on the beach. Therefore, you can be free of worry when you head to the beach with your kids.
Features
Ample color options.

Lightweight IMEVA construction.

Easy on/off heel strap.

Quick-dry comfort.

Soft EVA molded footbed.

Water-friendly.
Price
These kids swimming shoes are priced at around $35 on Amazon.
3: L. L. Bean Kids' Katahdin Sandals
These water-friendly kids swimming shoes are perfect for warm and fuzzy weather, and if you want to track down your kids, you can also put GPS trackers in them
No, we are not joking. 
The rugged design, hook-and-loop ring design, and webbing straps make these water shoes extremely safe and durable for kids.
We understand that they may not be exclusively designed as water shoes girls, or water shoes boys. However, the unisex appeal of these shoes has grabbed the toddler shoe market with a storm.
Features
Molded EVA footbed.

Neoprene jersey lining for skin comfort.

Polyester webbing strap for a custom fit.

Rugged design to make the shoe durable.

Easily adjustable.

Molded D Rings.
Price
These kids swimming shoes are priced at around $45 on Amazon.
4: Teva Kids Hurricane Drift
The list of toddler water shoes won't be complete if we don't include the pretty pink water shoes for girls on this list.
The Hurricane Drift edition of these beach shoes is made with molded EVA rings and synthetic soles that make them the best fit for your princess's tiny feet.
You don't want them to get hurt as they surf on the water, right?
This is why we recommend you give these water shoe girls a shot, as they are incredibly lightweight, comfortable, and durable.
Features
Injection-molded EVA sandal

.

Hook-and-loop closure for quick adjustability.

Cushioned heel tab.

Lightweight water shoes are perfect for outdoor activities.

Rubber outsoles supply excellent traction.

Ample size options.
Price
These kids swimming shoes are priced around $30 on Amazon.
5: Keen Newport H2 Water Friendly Sandal
These children's water shoes are great for swimming, hiking, and other outdoor activities that kids may enjoy.
The rainbow tie-dye shoe design looks attractive, which is why kids often fall in love with these shoes so quickly. 
One of the best features of these beach shoes is the iconic rubber toe bumpers that give them protection and comfort simultaneously.
Features
Easy On/Off Make The Shoes Kids-Friendly

.

Machine washable.

Rubber toe protection prevents kids from slips and falls.

Eco-anti-odor for natural odor control.

Lace-lock bungee system.

EVA insole with arch support.
Price
These kids swimming shoes are priced around $50 on Amazon.
6: Aleader Kids' Quick-Dry Water Shoes
In the market of babies water shoes, Aleader is a notable name. On top of being water-resilient, these water shoes also have multiple design options that kids can choose from.
The rubber sole's quick breathability and quick-drying feature make these shoes extremely flexible and lightweight.
Even the anti-slip rubber sole also prevents falls and trips, making kids avoid any kind of accidents.
Features
Interesting design options

.

Anti-slip rubber sole.

Flexible and lightweight like water socks.

Perfect for leisure water sport activities.

Made with quick-drying fabric.

The upper half is pretty stretchable.
Price
These kids swimming shoes are priced at around $20.99 on Amazon.
7: CIOR Fantiny Water Shoes
The CIOR Fantiny water shoes for kids may be available in only one color option, but the unisex appeal of the shoe attracts both boys and girls.
The textile upper rubber outsole and polyester exterior make the shoe a good fit for kids' aquatic activities.
The quick-dry mechanism also helps the shoes stay upright on wet surfaces.
It also includes the perfect combination of functionality and style, which likewise appeals to kids of different age groups.
Features
The Rubber outsole has slight grooves on the bottom

.

The polyester lining and upper make the shoe comfortable.

Unique design.

Perfect for seafaring adventures.

Made with quick-drying fabric.

The stretch-breathable ultra-lightweight upper half makes the shoe a go-to option.
Price
These kids swimming shoes are priced at around $21.99 on Amazon.
8: Dadawen Water Shoes
Dadawen is a famous brand in toddler water shoes, and their mesh and synthetic material make these water shoes for kids a viable choice.
It is durable, sturdy, easy to clean, water-resistant, convenient, and comfortable at the same time.
You can also get this beach shoe in various color options, which gives your little one the chance to select one that appeals to him the most.
Features
Made with

non-slip lightweight mesh material

.

These water shoes are hybrid and also suitable for wearing as sneakers.

Unique design.

Comfortable yet custom fit.

Offers excellent support on a watery surface.

They are machine washable.
Price
These kids swimming shoes are priced at around $21.99 on Amazon.
9: Native Kids Shoes Jefferson Glow
These boy's water shoes are made with perforated EVA uppers that will dry your little champ's feet as soon as he comes out of the water.
On top of that, these shoes glow in the dark, and of course, you know how much boys love those things, right?
These kids' water shoes' ease-of-use, sole thickness, and waterproofing materials make them stand out in the market with a reputed brand name.
Features
The upper half and toe glow in the dark

.

Made with injection-molded EVA upper.

It is hand-washable.

It is shock-absorbant.

There are great color and design options.

It is odor-resistant.
Price
These kids swimming shoes are priced at around $45 on Amazon.
10: J Crew Kids' Pool Slides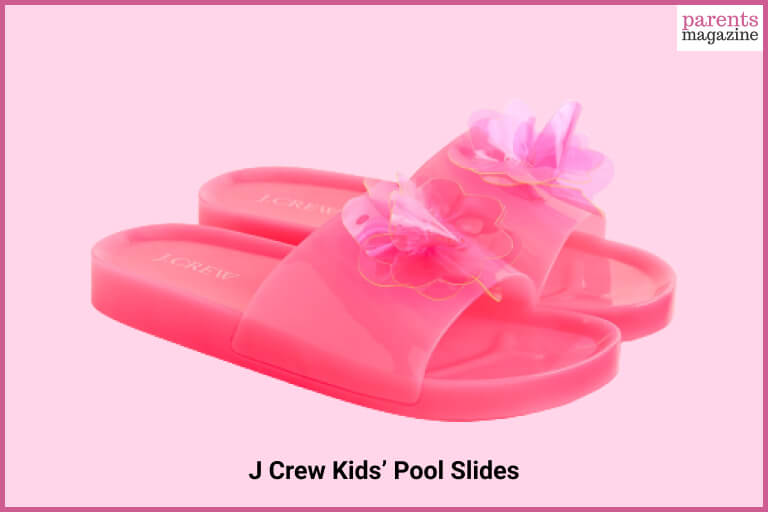 Is your toddler a fan of water adventure? 
Give them the J Crew pool slides to make the most of their first water experience. 
The synthetic lining, sole, and upper half make the shoe water-resistant, and at the same time, the water shoe is also uniquely designed.
The glittery polyurethane upper will not get washed away even if your kid stays in the water for hours. Hence, these comfy slippers are a must-have in your little one's wardrobe.
Features
Made with synthetic, glittery, polyurethane material

.

They are a perfect alternative to flip-flops and prevent toe blisters.

Perfect for warm-weather adventures.

Lightweight and flexible.

They have unique design options.

Ensure a comfortable fit.
Price
These kids' swimming shoes are priced at around $20 on Amazon.
11. Native Kids Shoes Jefferson Glow
One of the best things about the Native Kids swimming shoes is the perforated EVA uppers. This lets the feet of your lovely kids breathe when they are wearing it. It's also a vegan brand. This means that there was no animal that the manufacturers harmed during the manufacturing of this product.
Features
These are glow in the dark shoes that keeps your kids fascinated

It has a great fit which means that you need not worry about the size of the shoes fitting your kids at all

They are extremely comfortable 

The shoes are extremely breathable

Vegan product

There are many colors available
Price
The price of these shoes varies from site to site. On Amazon, it is priced at $45
12. UBFEN Kids Swimming Shoes
If you plan to have a great day at your child's favorite waterpark, it is best to purchase a pair of UBFEN Water Shoes. They are extremely fitting, and this is a great win as a day at the water park means that there is going to be a lot of activity.
These kids swimming shoes are also very flexible and great when it comes to running. Because they are available in so many colors, your kids are going to love them.
Feature
These shoes are very flexible

The soles of these water shoes are very breathable

The shoes are quick-dry, which ensures safety

The loop and hook strap make sure that the shoes remain in place all day long

Extremely lightweight

A lot of colors to choose from
Price 
On Amazon, these shoes come for $29. However, the price may vary from site to site.
13. Nike Aquasock 360 Water-friendly Kids Swimming Shoes Slip-On
The brand has all things good. And this holds true even in the case of their range of kids swimming shoes. For example, the Nike Aquasock 360 water-Friendly Slip-on shoes are extremely affordable and comfortable to wear.
The pull tab straps ensure that they stay in place even if you have a hyperactive kid at home. The best thing? When your toddler wears these kids swimming shoes, you will feel like you are walking barefoot. This is mostly because of their lightweight quality.
Features
The Mesh upper part of the shoes makes them look attractive

Available in colors black and white

Extra protection for the toes is available

The bottom sole is hard

It has an attractive slip-on design

These shoes are very flexible
Price
At Nordstrom, the price of these shoes is $45. The price of the same shoes is $59 on Amazon.
14. Kids Swimming Shoes Keen Unisex Kid Newport H2 Sandal
Looking for a water shoe that is breathable for your kids? Then you must check out the Keen Unisex Kid Newport H2 Sandal.
They are durable, stylish, and extremely comfortable to wear. What more?
The toggle lace of the shoes is extremely stretchy. So there is no need to worry about blisters that most rubber-based kids swimming shoes end up giving.
Features
These shoes are durable

They are extremely affordable

The upper portion of the shoe is made up of polyester webbing

These are very breathable

Taking them off and putting them on is very easy

They have a very snug fitting.
Price 
The price of these shoes is $44 at Nordstrom.
15. Crocs Kids Classic Clog
This had to be on our favorite water shoes list for kids. Crocs are very popular among all people because of the look and comfort that they provide. They are a great show for any time of the day. 
The Clogs have a heel strap that is pivoting. This feature of the kids swimming shoes ensures that the shoes stay in place even with all the activities at the water parks.
Features:
The material is soft

These shoes are durable

Many color options are available

They are lightweight

They are breathable

The straps t the heels make them stay in place
Price: 
On Amazon, the price of these kids swimming shoes is $25. However, at Nordstrom, the price is $40
Happy Swimming!!!
As you can see, we have included kids swimming shoes from all colors and size options on this list. We have also mentioned their features and their price so that you can select the best one for your toddler. 
If your child does not have a preference, you can select any of these shoes, and we guarantee that you won't regret the choice. Nevertheless, if you want to know more about these water shoes, let us know in the comment section. 
Additional Reading: