"In the middle of the night, when little Timothy is fast asleep, dark event takes place. Mommy turns into a vulture and daddy into a hungry wolf. Together, they take over Timothy's Nugget couch. That is when the Legend of the Nugget After Dark begins."
But, Lucky for both mommy and daddy, the kids don't know who plays with their Nugget couches after dark. But we do.
We have heard all the whispering, pounding, humping, and moaning that comes from the Nugget after dark, and we would love to burst the bubble. But first, let me tell you who the nugget couch truly belongs to.
Truth About The Nuggets
The Nugget couches belong to Timothy and all the little kids who love a funny plaything. Nugget couches are portable and soft pieces that kids can play with and make funny furniture out of it. They can use their creative imagination to build different things out of a nugget couch.
The couches have 4 pieces. There are 2 rectangle cushions in the couch and 2 triangular wedge pillows that complete a nugget couch. Kids can play with these couches and create different items using their varying lengths of imagination (which they inherit from mommy and daddy, ahem!).
The nuggets were originally made for college and hostel students who, as an upgrade to the single futons they used to sleep on. However, since they are softer and lighter, kids can carry them easily and play around with them.
During the pandemic, the Nuggets became insanely popular. Kids stopped going out and had very little amusement. But, when the couches were introduced, it gave them a new plaything to be obsessed with. They started to use their imagination and different Nugget couch ideas to build something.
Nugget After Dark: This Is What Parents Do When The Kids Are Asleep
"Daddies have always been naughty boys
They love to play with children's toys 
But you cannot blame only daddy for this 
It couldn't be helped if mommy permits."
No children have the faintest idea of what their parents do when they are fast asleep. Well, for a fact, we adults know that they have sex. But things started to grow weird and different during the pandemic.
Yes, they wanted to have some time off from their work. But not like this. The past two years were exhaustingly difficult for parents with toddlers. The fear of the pandemic, hunching over the laptop at home, and Timothy's virtual schooling. But, there was no peace. It was freedom – but caged at home.
Folks really did not have time to breathe. But that is when the spark took over the mind. Moms who were discussing Nugget couches for kids on social media started sharing their obsession with getting banged all over the furniture their children love to play with. That is when the Facebook groups started – the notorious Nuggets after dark.
Nugget After Dark: How It Started!
Earlier, moms started to buy nuggets for their kids ( it usually costs $229). They started to take pictures of their kids playing on Nuggets and posted them on TikToks and Facebook groups. The most crowded Facebook group about the Nuggets had 65K members.
These different social media groups made the demand for the Nuggets grow. People started to talk about nugget configurations, Nugget Lingo, Nugget scores, and all the different secret terms in the Nugget world they created around this furniture.
The resale value of the Nuggets also increased since the company could not keep up with the demand. But what is Nugget after dark? It means having sex on the Nugget at night. It seems like a naughty thing to do, and that is why couples enjoy it.
These parents like to make the most of their penny spent on the Nugget. So, they love to have their turn after the kids are done playing with the Nuggets – it's time for mommy and daddy to play with the nugget furniture after dark. All the secret naughty things these parents do are recorded in a Facebook group.
Nugget After Dark Facebook Group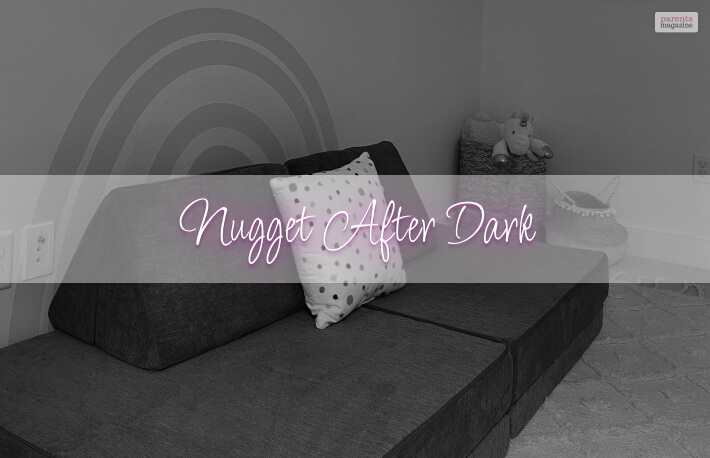 Parents with this new type of fantasy hang out in a secret Facebook group called Nugget After Dark. This private group has around 19000 members. They discuss their sex lives, what different positions to try out on nuggets, and ask each other for advice.
Since the news about the Nugget after dark leaked, a lot of people are trying to join the group. Nut, the group has become more secretive, and it is more difficult getting yourself in. the patrons of Nuggets created the group as a safe space, a secret hideout where people of nugget culture talk and share their ideas and fantasies. 
Now, if you want to join the group, your Facebook ID needs to be at least a year old, and you have to answer all questions to get your request verified. Since the group is now private, you cannot find it by normal searching. You can only join if someone from the inside invites you.
But there is a second Nugget After Dark group as well. This group has around 2K members. But it is not the original Nugget After dark group.
Closing Thoughts
Moms who have kids who are not even a year old buy the nuggets. Then the game is to get your husband seated on the box when it gets delivered. He should sit with as little clothing as possible. Then you take a picture of them like that.
So, basically, Nugget after dark is a group where people talk about having sex on top of their kids' nugget couches. I think I have all the information you were looking for about the Nuggets. If you need further questions answered, you can comment below. We will get back to you soon.
Read Also: