After pregnancy, you need a variety of clothes and accessories. Your body has changed, and so have its requirements. The nursing bralettes are among those requirements. They help you breastfeed the baby with ease.
But is that all? I think you agree to "no". There are many benefits of wearing these bralettes. While I will talk about them, I also intend to help you find the best bralettes during your time as a nursing mother. This article contains the best list of nursing bras for mothers after pregnancy. So, let's start without any delay.
When To Wear A Nursing Bralette?
You can wear a nursing bra while giving daily care to your newborn baby. Remember that the nursing phase in your life can continue up to one year from the time your baby is born. So, the best you can do is purchase a good-quality pregnancy bra.
Well, in the next section, you can check out the factors to consider when purchasing a nursing bra. You should always crosscheck the prices and grab any exciting offers that you find on the e-commerce store.
What To Look For In A Nursing Bralette?
While buying a padded nursing bralette, you should always check the fabric, comforting features, and price. Remember, the nursing bra is not something you wear for fashion. It is the comfort that matters the most. You can always treat it as pregnancy shapewear, as your breast size might fluctuate right from the onset of maternity. Well, you can go through the list now:
10 Best Nursing Bralettes You Should Check Out
In the following list, you can get to know about some premium-quality bralettes for nursing mothers. You can always rely on their quality and the price too. All the products on the list are available at affordable prices.
1. Hofish 3 Pack Full Bust Bras
The 3 pack full-bust bra can be one of the best nursing bras that you can pick. The full bust style gives total support to your breasts and allows you to easily nurse. You can wear it easily while working in the office. 
Salient Features
This set of three bras has thick straps
Easy to pull aside
Consists of washable pads
2. Hofish Strapless Pumping Bralette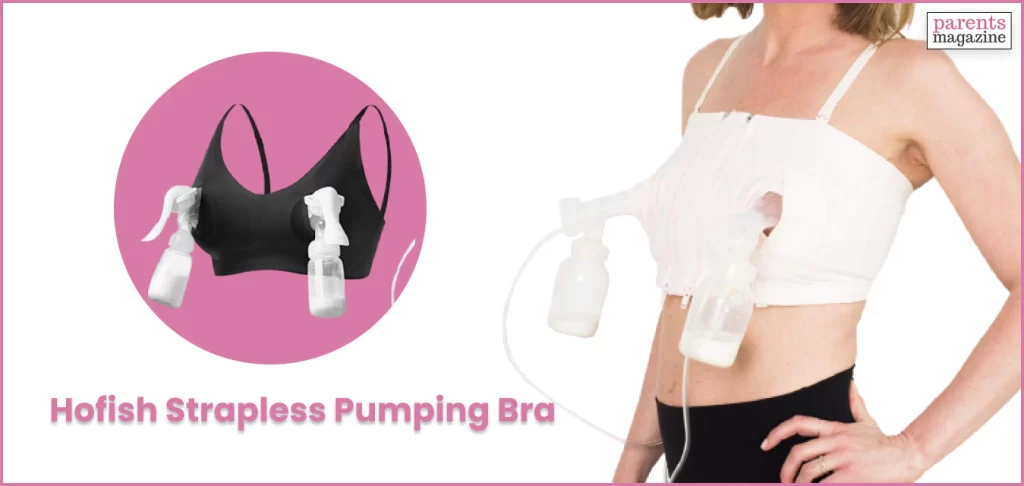 The Pumping bra from Hogfish is unique because it comes with loops that allow easy breast pumping. These loops are even adjustable to ensure total comfort. Moreover, the fabric is quite soft. 
Salient Features

It can take the shape of a tank bra
Made with durable materials and has high longevity
If you are currently pregnant and looking for some comfortable leggings ,you Should Know About : 10 Best Postpartum Leggings A New Mom Must Know
3. Kindred Bravely Sublime Nursing Bra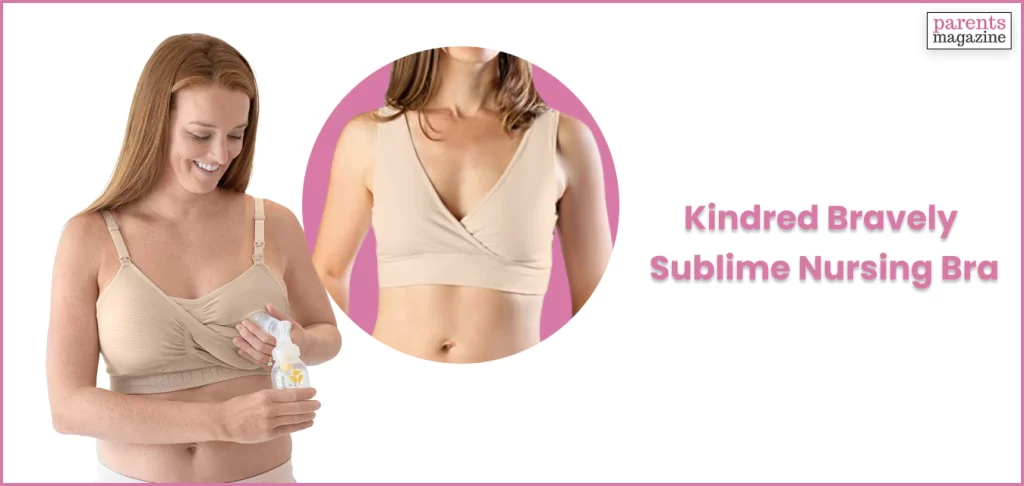 The Sublime nursing bralette can be the best option for new mothers with large breasts. This bra contains quality elastics that you can rely on. Take a look at its features.
Salient Features
Dropdown cup
Amazing elasticity
Full Bust Shape to cover your breasts entirely
4. Momanda Lace Nursing Bralette
You can pick the Momanda nursing bra lace if you have small breasts and a lean body. It can be one of the best comforting bras for you. Moreover, you can wear it with some outstanding nursing tops.
Salient Features
Comes with an easily adjustable nursing clip
Best for mother's outlook in terms of fashion
Double-layered mesh is present in this bra
Read More About : 10 Best Diaper Rash Cream For Your Baby
5. Nordstrom Contour Nursing Bra
The Contour Nordstrom bra for nursing mothers is an old-fashioned bra that you can wear while taking care of your child. Well, check out its features.
Salient Features
This pregnancy bra comes with adjustable straps
It also has a one-side cup release
The drop cup feature is available on the bra.
6. Auden Women's Seamless Bra
The seamless bra from Auden can anytime be an excellent competitor to the Cosabella nursing bralette. It gives the same level of comfort to a new mother'. The salient features are given below:
Salient Features
One-handed cup release
Eye-hook switch is situated at the back
Outstanding elastic features
7. Auden Lace Bralette
Auden makes yet another lace bralette you can buy when it comes to nursing a child. It is a soft piece of innerwear that you can buy anytime as it is quite affordable.
Salient Features
Quality laces make the bra soft and airy.
The unpadded feature makes it excellent for mothers with large breasts
The bra is lightly lined 
8. Notori Wireless Nursing Bra
The Notori wireless nursing bra is one of the best innerwear for a mother. It is quite comfortable, and one can wear it easily with nursing tops.
Salient Features
The one-handed cup release
Wireless bra for utmost comfort
The drop cup feature is present in the bra
9. Medela Black Sleep Bra
Medela might not have made a padded nursing bralette, but you can get a comfortable sleep bra from this brand. Well, the best thing you can do is check your size and buy one at the earliest.
Salient Features
A one-piece bra that enables good sleep for the mother
Easy sift-and-nurse feature
The racerback design makes it fit for any fashion outfits.
Read More : 10 Best Skateboard For Kids – The Ultimate List In 2022
10. Motherhood Maternity Underwire Bra
The Underwire bra from Motherhood Maternity is one of the premium-class innerwear that new mothers can buy. You can rely on the level of comfort it gives. 
Salient Features
Full bust coverage
One-hand release (single cup)
Drop cup feature
Frequently Asked Questions
Frequently Asked Questions
Are Bralettes Good For Breastfeeding?
Yes, nursing bralettes are good for breastfeeding. Here are some convincing reasons–
They Provide good coverage.
They Give a seamless look.
Bralettes are easy for breastfeeding.
They also provide extra support.
How Do You Use A Nursing Bralette?
You can use a nursing bralette by unclipping the sup when you need to breastfeed your baby. They are handy and helpful for mother who needs to breastfeed on the go.
Is a Nursing Bra A Must?
No, a nursing bralette is not a must, but it can give outstanding comfort. You can also go for nursing tops or nursing tank tops on top of nursing bras. There are also different styles to pick from.
What Is The Best Bra To Wear When Breastfeeding?
The best bra to wear when breastfeeding is a nursing bralette. So, you should search for one and buy one. I have listed some of the best ones that you can pick from. Here are some options you can choose from —
Hofish 3 Pack Full Bust Bras
Kindred Bravely Sublime Nursing Bra
Momanda Lace Nursing Bra
Nordstrom Contour Nursing Bra
Auden Women's Seamless Bra
Final Words
Bralettes for mothers are quite popular inner wears that are available in the market as well as in e-commerce stores. You can buy them according to your body type. One good thing you can do is go through the reviews given on the e-commerce stores to know whether the product is worthy.
You can again purchase a few items from the shops after thoroughly trying them out. While many women do not find it worthy to use nursing innerwear, you can give them a try to ensure comfort. As a result, you would not have to make a lot of lifestyle changes.
More Related Topics…