There is generally a two-week wait between the implantation of an embryo and the time when you can take a pregnancy test. This time is really testing for the expecting parents. This is the time when you go from checking the tenderness of the breasts to looking for implantation bleeding.
Though IVF could be an emotionally taxing process, the time after the process is more testing. This is the time when hopes are hanging by a thread, parents are anxious, and hormones are at a very high level. But there are a few positive signs after embryo transfer that could help you relax for a while before you can take the pregnancy test.
Positive Signs After Embryo Transfer
There are a few symptoms that could denote that the procedure has been successful. This can also happen because of medications or fertility drugs that you are taking to get pregnant.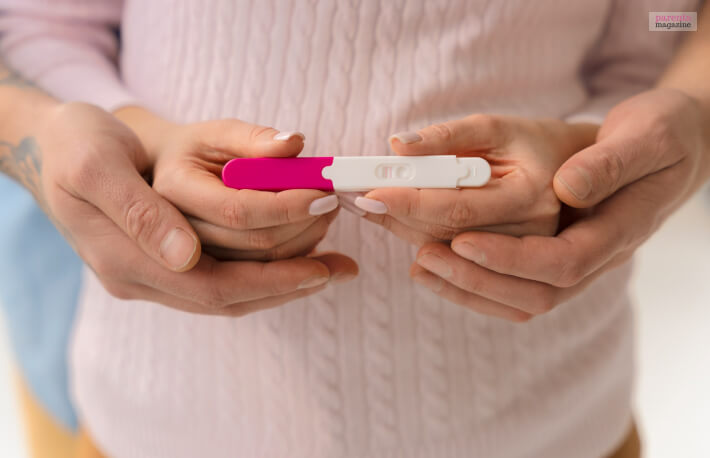 According to Dr. Tanmoy Mukherjee, infertility specialist and reproductive endocrinologist at the RMA of New York, "In general, there are no specific signs that an embryo transfer has been successful until the pregnancy test itself."
This happens because of the progesterone and estrogen that are commonly taken before transferring the embryo. The progesterone that is taken after the embryo transfer is responsible for the sore breasts, the change in discharge, and the bloating. Without any further ado, let's get on with the good bits, the positive effects that can be seen after the embryo transfer.
Spotting Or Bleeding
Implantation bleeding is one of the initial signs of pregnancy. Many women get stressed and freak out about bleeding when they are trying to get pregnant. This can mean the embryo has attached itself to the uterine wall.
If you notice light spotting on your underwear or on the toilet paper after the embryo transfer, this could be a positive sign. This is also a sign of the medicines that have been prescribed because of the IVF treatments.
Cramping
Cramping is one of the most common signs of menstruation. But this could also be a positive sign after embryo transfer. But before you take a pregnancy test, keep in mind that according to the National Infertility Association, this mild cramping could also happen because of the progesterone that you have been prescribed during the two-week wait.
Sore Breasts
Sore breasts are one of the early signs of pregnancy. If you find your breasts tender or swollen when you touch them, or they get bumped, it could mean something positive for you. According to Dr. Kecia GaitheR, MD, FACOG, OB-GYN, and MPH of prenatal services at the NYC Health+ Hospital says that breast tenderness happens because of the pregnancy hormones.
You could possibly have sore breasts because of the medicines you are taking during the two weeks. Oral progesterone and injectables are also a reason behind the breast tenderness.
Fatigue And Tiredness
Getting fatigued and tired is an essential part of being pregnant. This is something constant from the time you conceive till the time you deliver the baby. But during the time when you intake the progesterone, you might get a little more tired than usual.
Generally, people are fatigued when they are due for their period. This could be a positive sign that the embryo transfer has been successful, or it could just be another side effect of the drugs that you are taking.
Bloating
The increase in progesterone levels is the reason for this extra bloating in your belly. Along with the increase in the hormonal level, which happens when you are under fertility drugs or have conceived, the digestive tract slows down and makes you feel more bloated than you usually do.
This is typical when you are about to get your period, or when you are pregnant. Or if you are under progesterone or some other drugs during vitro fertilization or after the embryo has been transferred.
Discharge Change
If you have been prescribed progesterone to prepare your vagina during these 2-weeks. You might notice some vaginal discharge which is in no way linked to a positive sign of pregnancy. Burning, yeast infection, discharge, and itching are some of the common side effects of using suppositories or vaginal capsules.
If the vaginal discharge increases, that is also a sign of early pregnancy. If this is happening because of the successful embryo implant, you will notice a white, thin discharge with a mild smell during the initial weeks of pregnancy.
Increased Urge To Pee
Going to the washroom often and making pit stops more could also be a sign of pregnancy. Some people often feel the urge to pee more than they miss one cycle. But this is not a very common symptom when you miss a period.
Also, an increased urge to urinate could also be a sign of urinary tract infection. So get yourself checked by a doctor when you notice the following symptoms:
Urgency to pee
Vomiting and nausea
Painful urination
Fever
bleeding
Missed Period
A missed period is a very evident sign of pregnancy, especially if you have a cycle that goes clockwise. People who get their period regularly and can count their dates if they get it in a similar pattern every month can identify if they are pregnant when they miss a cycle.
When Can You Take The Pregnancy Test?
It is obvious to be impatient during this time. You can't wait to see those two lines, but it is best to wait till the right time to save you from disappointment. But it is best until you miss your period to get accurate results.
According to Dr. Mukherjee, the embryo attaches itself within 48 to 72 hours after doing the transfer. The embryo that is growing inside will increase in size and other developmental activities. This will produce more hCG and will give an appropriate result in 9 to 10 days after doing the embryo transfer.
Conclusion
Waiting for two weeks after the transfer will get stressful, emotional, and exhausting as well. This is the time when looking for the Positive signs after embryo transfer could bring you peace of mind and relief from the constant overthinking that your mind will be doing.
The positive signs include spotting, cramping, and light bleeding, meaning the transfer has been successful, but the best way to be sure is by taking a pregnancy test.
MORE FOR YOU: