Your baby bun may go through a lot during their growing phase of life—common cold, fever, tummy issues, and most commonly, despair rashes.
The first five months of a baby's life are full of troubles, and diaper rash is one of the most ailing ones. The rashes appear as tiny red, inflamed skin that appears as slightly swollen bumps and warm.
They may feel itchy and irritating for the baby. Due to frequent diaper changes, sensitive skin, and rubbing, diaper rashes may trouble your child. However, there is relief from such trouble. Moreover, you can apply the dapper rash cream on your baby's skin and give them much-needed relief. 
What To Look For In A Diaper Rash Cream?
There are a few things that you need to keep in mind if you buy a rash cream for your baby. Of course, there are many products in the market. But not all of them are good for the sensitive skin of your baby.
There are some ingredients that your chosen product should have, and there are some that are more on the unhealthy side for your baby.
Zinc oxide is a much-needed element of the baby rash cream. It creates your baby's skin, creating a barrier for keeping the moisture in.
Extracted from the Marigold flowers, Calendula is another antibacterial and anti-inflammatory object that helps reduce itching.
Aloe vera helps rejuvenate the inflamed skin. 
Petroleum offers a much-needed moisturizer to reduce the rash.
Also, several things harm your baby boy's skin. For instance, you need to look for and avoid products containing these elements-
Mineral Oils
Phthalates
Parabens
Artificial wax or dyes.
And toxins
Best Diaper Rash Creams In 2022
We have gone through a rigorous market to handpick only the best diaper rash cream so that you won't have to choose the wrong product. So here, I have several rash creams for babies.
Burt's Bees Baby Diaper Rash Creams
When talking about diaper rash creams, the Products from Burt Bees Baby rash creams come on the top list. The reason for that is understandable.
This baby rash cream has no harmful materials such as phthalates, mineral oils, or artificial wax. So, this cream is rich in:
Shea butter
Castor oil
Jojoba oil
Almond oil
Read more: 10 Best Baby Massage Oil For Your Kids.
Aquaphor Diaper Rash Cream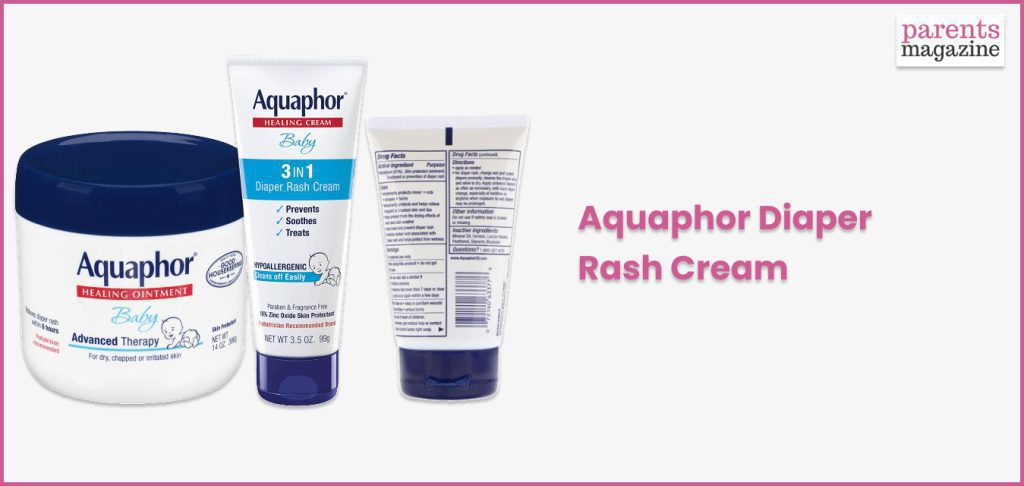 Aquaphor diaper rash cream is the one solution for your baby's many problems: chapped cheeks, burns, eczema, and diaper rashes. Your baby will find relief six hours after applying the cream. So, here are some valuable ingredients that this product has: 15% Zinc oxide.
Also, many harmful elements, as mentioned earlier, are absent in this cream. Therefore, it is a perfect buy option if you are looking for a three-in-one solution.
Earth Mama Organic Baby Rash Cream
Another organic baby rash cream is the Earth Mama Rash cream for your baby. Many pediatricians recommend this cream to babies. There are no harmful chemical or toxic elements, and the product uses all-natural products like-
Shea Butter
Olive oil
Jojoba Oil
Calendula Oil
Lavender oil
As a parent, you should never compromise with the quality when it comes to selecting the best baby shampoo for your little one here is the list, go and check it out.
Desitin Diaper Rash Cream
There are many rash creams available, but the Desitin diaper rash cream is unique among most of them. It is clinically proven to be one of the most effective rash creams. It is primarily based on zinc oxide. Additionally, there is 400mg of Zinc oxide within one gram of this rash cream. So, some of its inactive ingredients include:
Beeswax
Petroleum
Mineral oil
Dimethicone
You can choose this product if you are looking for a quick relief product.
Triple Paste Rash Cream
When most rash creams fail you, you need to switch to triple-paste baby rash cream. You won't ask for your money back once you use the triple-paste cream. It is a product that guarantees relief. 
The product is free of artificial fragrance;' and zinc oxide is an active agent. Moreover, the cream offers easy and safe healing of your skin. So, some of its ingredients include:
White Petrolatum
Corn starch
Beeswax
Water
Oat
bisabolol
Read also: When Can You Put Lotion On A Newborn Baby: Everything You Need To Know.
Boudreaux's Butt Paste
New parents are currently loving this product very much for their babies. The product is easy to apply and does not feel irritating on the skin. Additionally, the formula uses a pleasant scent to make your baby feel happy as you put it on them. 
So, some of its core ingredients are-
Mineral oil
White wax
Petroleum
Castor oil
Weleda Diaper Rash Creams
This product is one of the most expensive ones on the list. But you will get your money's worth when you buy this product. The use of pharmaceutical-grade zinc oxide makes this one of the attractions of this list. Made with white mallow flowers, Weleda Diaper rash cream is an excellent choice if you want to give your baby the relief they want.
Moreover, there are no synthetic ingredients or elements in this product. So, it is toxin-free and has ingredients like:
Calendula Flower Extract
Cananga Oil
Beeswax
Chamomile Flower Extract
Rosemary Oil
Himalaya Rash Cream
Baby diaper rash cream from Himalaya is fully organic ingredients and helps reduce inflammation and rash. Moreover, this cream is based on zinc oxide, and it helps heal the rashes on your baby's butt. So, here are the key ingredients of this cream:
Zinc oxide
Yashad bhasma
Manjishtha and Nirgundi
Sebamed Baby Diaper Rash Cream
Made in Germany, SebaMed is an excellent rash cream. There are some beneficial ingredients included in this product. Moreover, there are hardly any harmful ingredients in this baby rash cream. So, here are some much-appreciated elements of this Rash cream:
Petrolatum
Paraffinum Liquidum
Cera Alba
Aqua
Dimethicone
Honest Baby Diaper Rash Cream
There is 14% zinc oxide in the Honest Baby rash cream. It ensures the fast healing of your baby's skin from diaper rash. It helps keep the moisture on your baby's skin while healing it from the inside out using all-natural ingredients. So, here are some of the worth-mentioning ingredients of this product:
Shea Butter
Sunflower oil
Castor oil
Olive oil
Grape seed oil
Jojoba oil
Bottom Line
Your pediatrician may already prescribe you the diaper rash cream. However, if they don't limit you to using any particular product based on your baby's skin condition, you can look into the products mentioned here.
Moreover, these products are made using organic and harmless ingredients, making them worth using. However, if your baby has any extreme condition of diaper rash like Yeast rashes, it is better to get them treated by your pediatrician. 
Read More :
10 Places To Shop Your Favorite Disney Clothes For Kids
10 Best Pregnancy Shapewear You Must Try In 2022
Top 10 Best Baby Cream For Fairness In 2022